Social Cycling
Co-ordinator:  Pat Lee
Mobile:  07769 877293
Home: 01565 653309
Email: info@knutsfordu3a.co.uk
We are a small group of 10 members who enjoy social cycling with the bonus of 'cake and coffee' midway on our ride.  We invite anyone to join us who wishes to get out into the fresh air for a morning, enjoy some relatively gentle exercise and have a friendly chat over refreshments.
On one of our previous rides we enjoyed a sunny morning ride through the lanes beyond the Whipping Stocks to Jodrell Bank where we sampled the refreshments on offer. Other coffee stops we have made on previous outings have also included Goostrey Home & Leisure, Plantation (as was) and the Grasslands cafe.
Thursday 12th April 2018
Seven of us set out from Tatton Park Knutsford gate at 10am yesterday, led by Ian. The weather was a little breezy and on the chilly side as we rode along the Park driveway. We slowly climbed the rise out of Rostherne village to cross over the old Chester road and from this point we cycled along lanes few had been on before, which was most interesting. Skirting around the village of High Legh, we crossed over the A50 for our refreshment stop at High Legh Garden Centre. That was of course after the scratching of heads in the car park, trying to work out how the 'cycle parking frame' worked! None of our bikes would fit into the spaces, without fear of damage. Perhaps we misjudged, and it was, actually, a climbing frame for toddlers! Thumbs up for the newly refurbished café. Light and airy with plenty on offer. Brown teacakes – that's a first! Not the best we've had apparently, but acceptable. Scrumptious cherry scones. A bonus was an extra toasted teacake; a miscount by catering staff, but it was accepted gratefully and polished off by a couple of our group. Onward south towards Arley and Bate Heath before heading east, beneath the new underpass at the M6 junction, then waded through the floods of Moss Lane, onto Green Lane, then Tabley Road back to Knutsford, where various members peeled off to make their way home. No incidences with tyres or chains, thankfully. Many thanks to Ian for leading us on a great new route. It was a 16-mile round trip.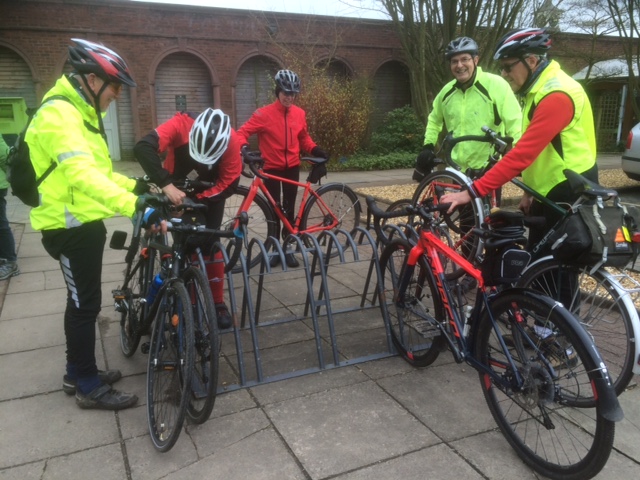 Thursday 8 March, 2018,  despite the snow flurry, the ride went ahead.
3 of us, David, Chris and myself, braved the wet and the wind along the very muddy Sudlow Lane, where farm buildings are being renovated in one or two places. Turning left onto Plumley Moor Road, then across to Free Green Lane we passed the Tree of Imagination at Lower Peover. Our refreshment stop was at the Snowdrop café at Grasslands nursery.
Snowdrops was the buzz word all morning it seems. Snowdrop café, clumps of Snowdrops all along our route, and, in the café we were sat beside a large print of …
…Snowdrops.
But, of course we couldn't return home without having a photo taken among the lovely display of SNOWDROPS. Please see the attached photos. The distance was 15 miles.
Chris has kindly 'offered' to lead a ride along the Green Way at Chester/Church Stretton, which will of course mean driving over there with bikes. Looking forward to it. Watch this space!!
.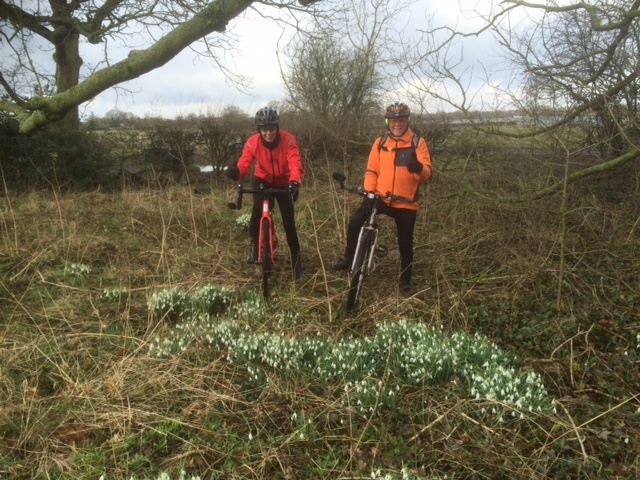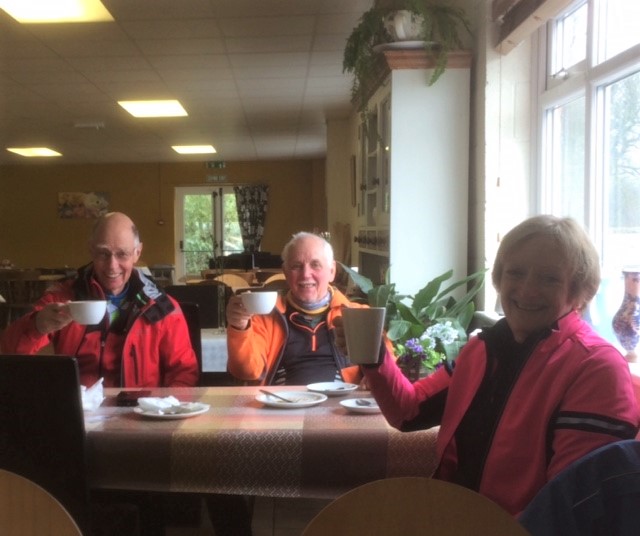 We meet twice a month on the second Thursday and fourth Monday. Try us before you join!
Pat Lee
Co-ordinator