WALKING GROUP 1
Co-ordinator: Margaret Cole
Tel: 01565 633569
WALKING GROUP 1
Walks take place fortnightly, alternating between Mondays and Wednesdays.  The meeting place is at the lay-by on Mobberley Road just before the watertower (Travis Perkins) at 9.30 a.m.
If you would like more details of any particular walk (e.g. difficulty or whether to bring a packed lunch) please ring the leader or if you have any other problems or matters for discussion please ring me on 01565 633569 (or colemargaret@hotmail.com).  Note to leaders:  When preparing details of how to get to the meeting place for the walk it would be a good idea to put on your mobile number in case anyone has trouble getting there!
Margaret Cole
PROGRAMME – AUGUST TO DECEMBER 2019
Date

Details of walk

Leader(s)

Wednesday 28 August

Rowarth – taking in Cown Edge and part of the Pennine Bridleway.  About five and a half miles.  Hilly area.  Picnic lunch

Evelyn Flett 653048

Wednesday 11 September

Delamere and Pale Heights.  Picnic lunch
Lynda Harris 07770837820

Monday 23 September

Rainow area.  A walk of around 5 miles with a picnic lunch.
Judith Shirley 652448

Wednesday 9 October

5 mile walk around Lymm Dam, along canal and back across fieds.  Probably packed lunch. Easy flat walk,
Jill Board 652948

Monday 21 October

Flash –  a new way to get to Three Shires Head.Picnic lunch.
Sue Stinchcombe 621322

Wednesday 

6

November

The Peovers.  About 6.25 miles, pub lunch
Margaret Joscelyne 633147

Monday 18 November

Marbury Park.  5 miles.  Pub lunch
Carole English 625815

Wednesday 4 December

Monday 16 December

Christmas Walk
Margaret Cole 633569
ANNUAL LINEAR WALKS
For a report from on the Annual Linear Walks organised by Walking Groups 1 and 2,  2012 – 2016 click on Linear Walks
Walking Groups 1 & 3 – Trip to Castleton, August 2019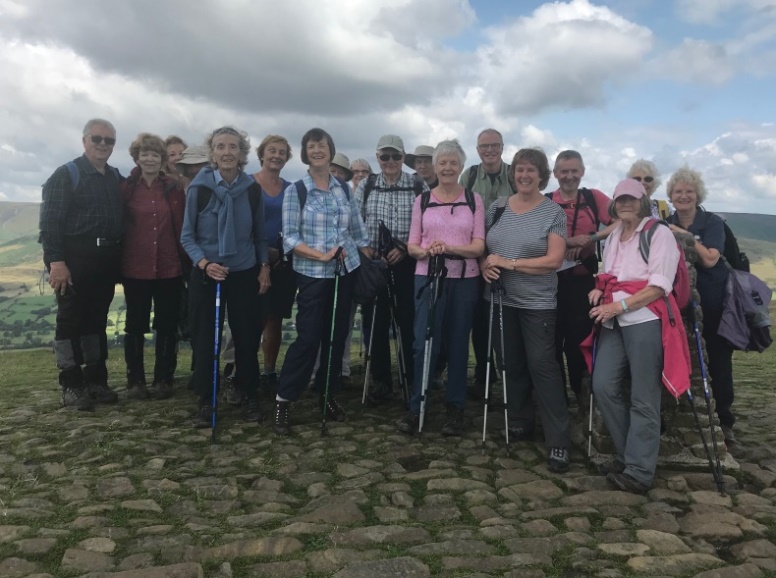 At the beginning of August members of Walking Groups 1 and 3 combined to go on a coach trip to Castleton.  Having driven through Whaley Bridge about half an hour before the village was closed and evacuated due to rain damage to the dam above it roughly half the group alighted in a layby to do a 5 mile linear walk into Castleton via Rushup Edge, Mam Tor, Hollins Cross and down into the village.  The weather was perfect for walking, the scenery on both sides of the ridge was spectacular and the group enjoyed a lunch stop with sweeping views of the valley.  This photo was taken at the summit of Mam Tor.
The second group of walkers stayed on the coach as far as Edale where, after a coffee stop, they did a slightly shorter, low level circular walk which also included some lovely scenery and a lunch stop.  They then got back on the coach and were driven to Castleton to meet up with the linear walk group for tea and a look round the village.  Wendy, our very obliging coach driver, then had to take us back to Knutsford via a very circuitous route as, by that time, Whaley Bridge had been completely closed off due to the danger of the dam bursting.  All in all it was a very enjoyable day out and we avoided all the rain that was around on that day.  Thanks to Margaret Hinde and Margaret Cole who helped to organise the trip.
Sue Allan
Malham Walking Holiday, April 2015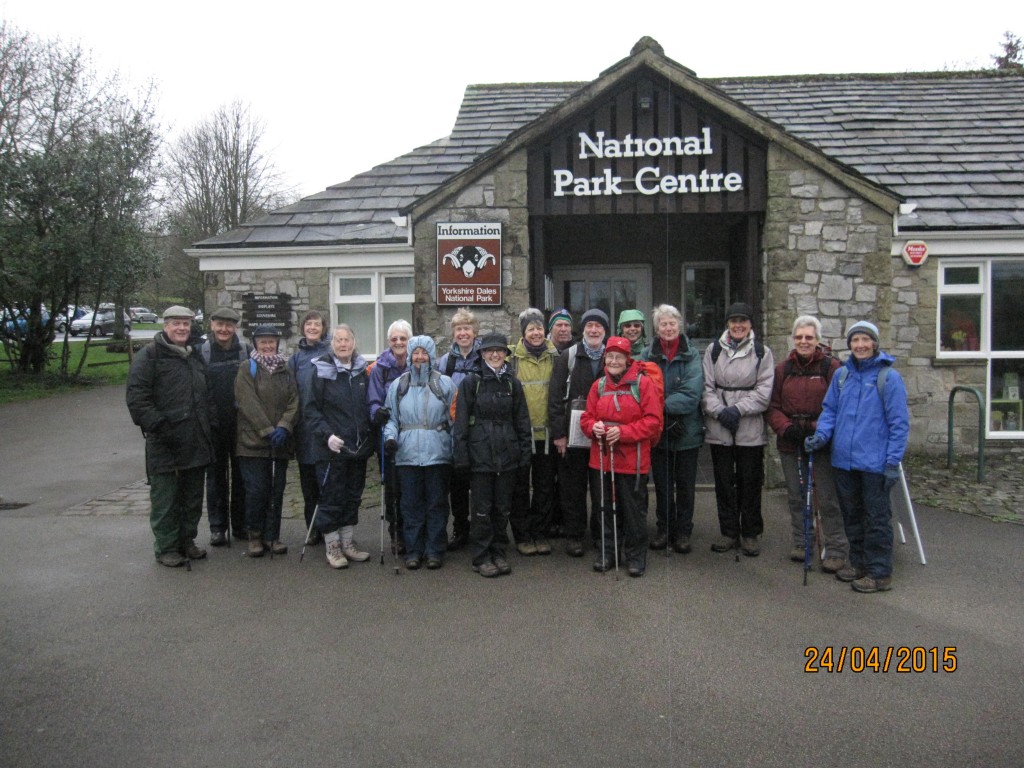 Malham Visitor Centre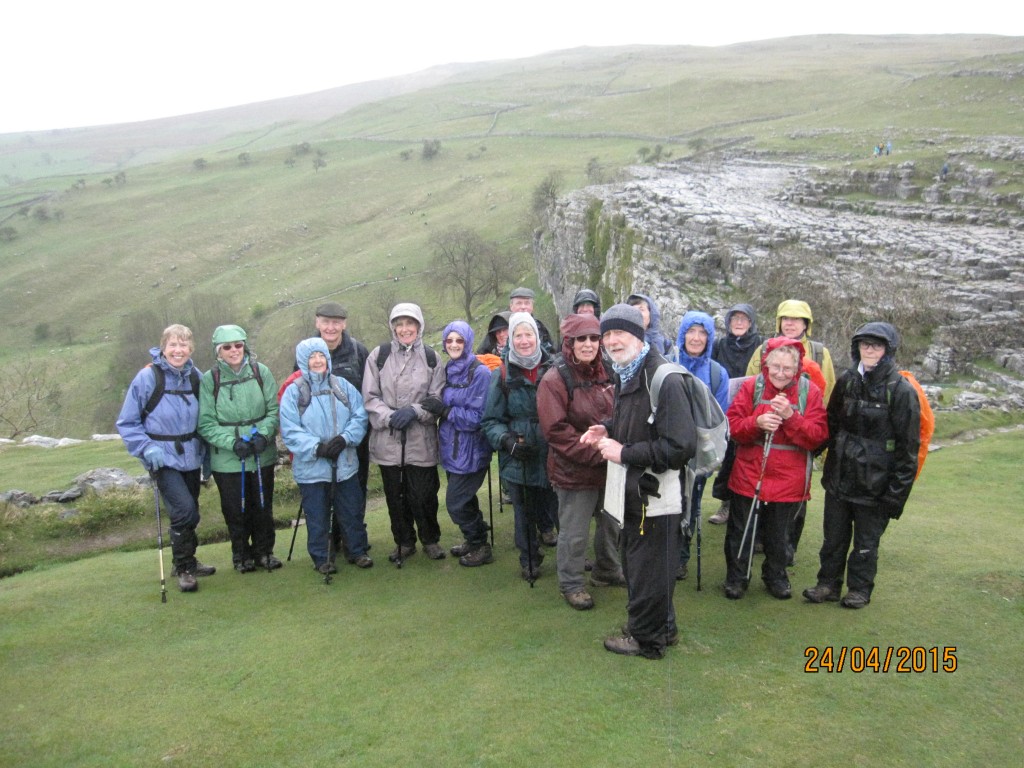 Malham Cove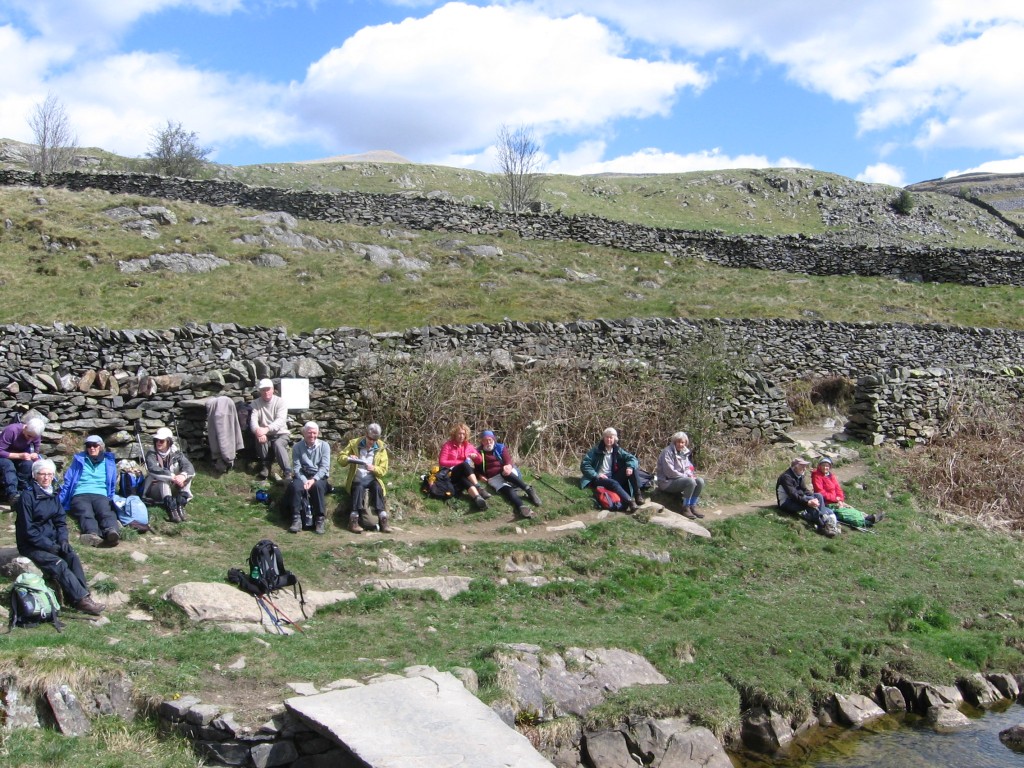 Lunch Spot on Walk from Clapham
Gritstone Trail Walk, June 2014
Between 16th and 25th June 2014, members from Walking Groups 1 and 2 walked the Gritstone Trail from Nelson Pit to Mow Cop.   The following are photographs along the way.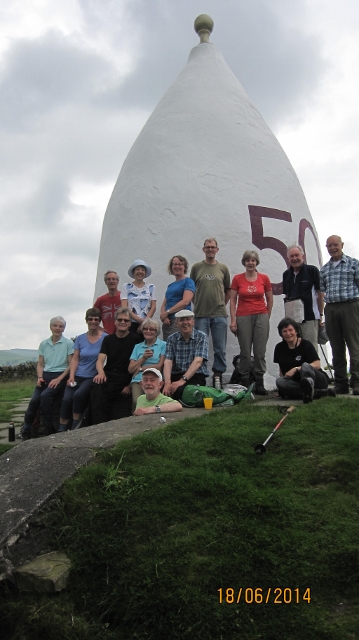 White Nancy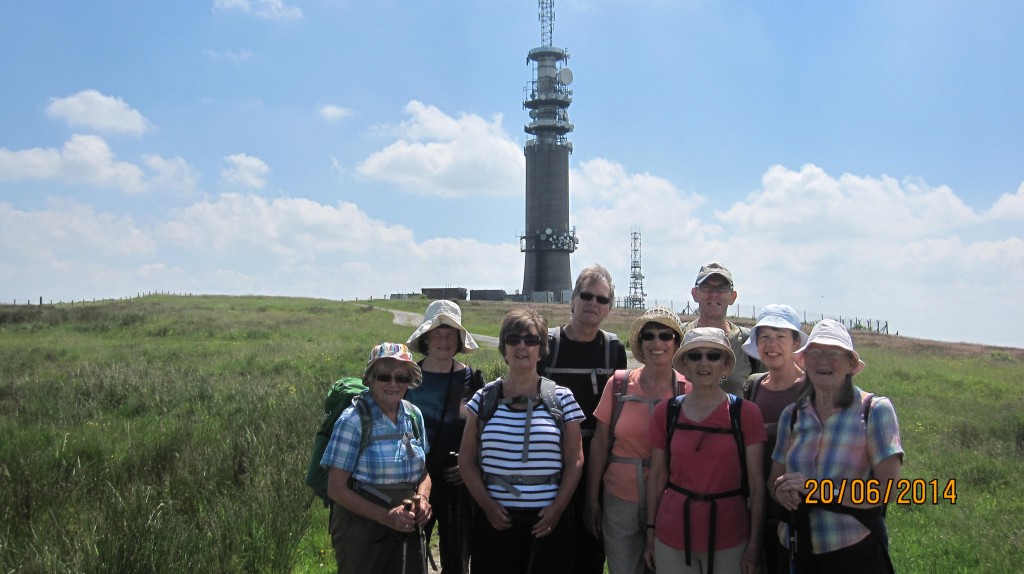 Croker Hill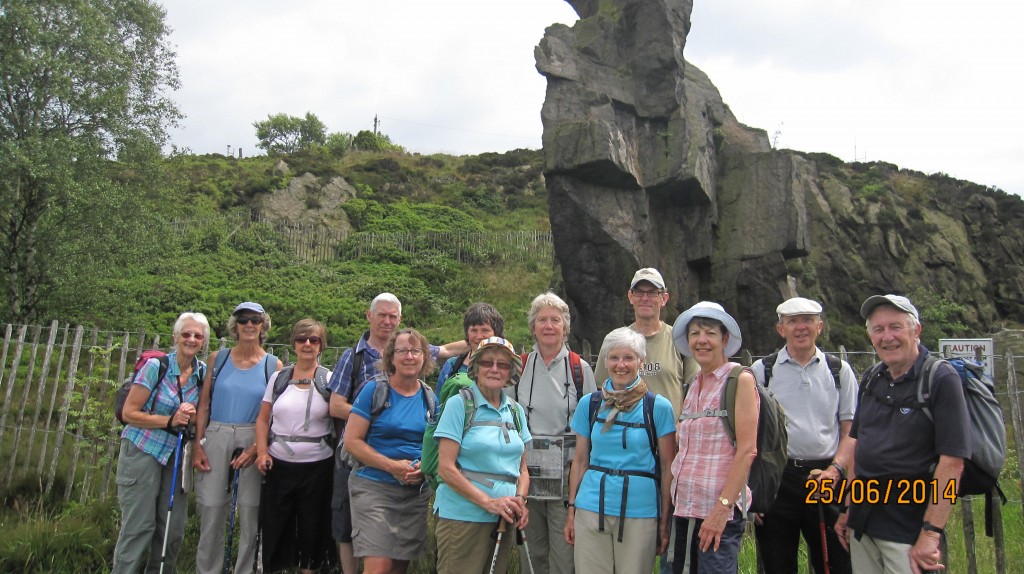 Mow Cop