WALKING GROUP 3 -  (MEDIUM WALKS)
Co-ordinator:  Margaret Hinde
Telephone:   01565 872643
Email:  info@knutsfordu3a.co.uk
We are a small, friendly group of walkers looking for a few more friendly people to join us – with your dog if you wish!  We walk on the first Thursday and third Friday of each month, 4 – 5 miles of varying difficulty, at a medium pace. The walks only last a morning and generally finish with a pub lunch.  We meet at the Dog Wood lay-by on the Mobberley Road at 9.30 am to share lifts to the start of the walk.
Please contact me if you need more information or would like to go on our distribution list for more details of the walks. Alternatively you are welcome to just turn up at the starting point.
Margaret Hinde
WALKING GROUP 3
OUTLINE PROGRAMME – SPRING/SUMMER 2019
 

DATE

WALK/LUNCH

LEADER

Thursday,April 4th

Mobberley 4 – 5 miles
Margaret Hinde 01565 872643  On the day :  07790299994

Friday,

April 19th

N.B.  Good Friday!Meet at Mobberley rd lay-by  -  and go for a walk!
Whoever turns up!

Thursday,

May 2nd

Scholar Green area, from The Bleeding Wolf
Elizabeth Hosking    01565 634402              07773721081

Friday,

May 17th

Mottram St Andrew?
Margaret Joscelyne  01565 633147

Thursday,

June 6th

t.b.a.
Helen Jackson 01565 634920 07907535034

Friday,

June 21st

t.b.a.
Heather Brocklehurst  07939519926

Thursday,

July 4th

Bostock Green, Davenham
Lynda Harris  07770837820

Friday,

July 19th

5 mls, Delamere and Sandstone Trail
Carole English 01565 625815 07743922294

Thursday,

August 1st

Possible coach trip  to Edale, (possibly with 2 different walks)
Margaret for coach Sue Allan for walk

Friday,

August 16th

Plough Inn, Whitegate
Gerd Walker 01565 654247 07999527888

Thursday,

September 5th

Hassall Green area
Jacqui Moore

Friday,

September 20th

5 mls, Great Budworth/Arley
Irene Hardy 01565 633348 07791438648
First Reserve!!   -  Ann and David Custerson,  01565 653710
Walking Groups 1 & 3 – Trip to Castleton, August 2019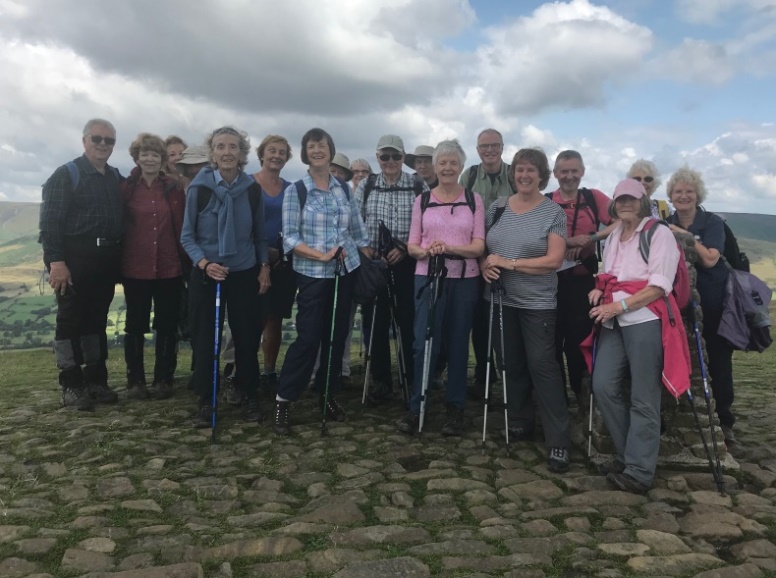 At the beginning of August members of Walking Groups 1 and 3 combined to go on a coach trip to Castleton.  Having driven through Whaley Bridge about half an hour before the village was closed and evacuated due to rain damage to the dam above it roughly half the group alighted in a layby to do a 5 mile linear walk into Castleton via Rushup Edge, Mam Tor, Hollins Cross and down into the village.  The weather was perfect for walking, the scenery on both sides of the ridge was spectacular and the group enjoyed a lunch stop with sweeping views of the valley.  This photo was taken at the summit of Mam Tor.
The second group of walkers stayed on the coach as far as Edale where, after a coffee stop, they did a slightly shorter, low level circular walk which also included some lovely scenery and a lunch stop.  They then got back on the coach and were driven to Castleton to meet up with the linear walk group for tea and a look round the village.  Wendy, our very obliging coach driver, then had to take us back to Knutsford via a very circuitous route as, by that time, Whaley Bridge had been completely closed off due to the danger of the dam bursting.  All in all it was a very enjoyable day out and we avoided all the rain that was around on that day.  Thanks to Margaret Hinde and Margaret Cole who helped to organise the trip.
Sue Allan
Group on Walk around Sandiway and Whitegate, 1st Sept. 2016
Photos from 3 Shires Head Walk, Sept. 2015