Book Group 4
Group Leader: Pauline Hales
Tel: 01565 650214
Email: info@knutsfordu3a.co.uk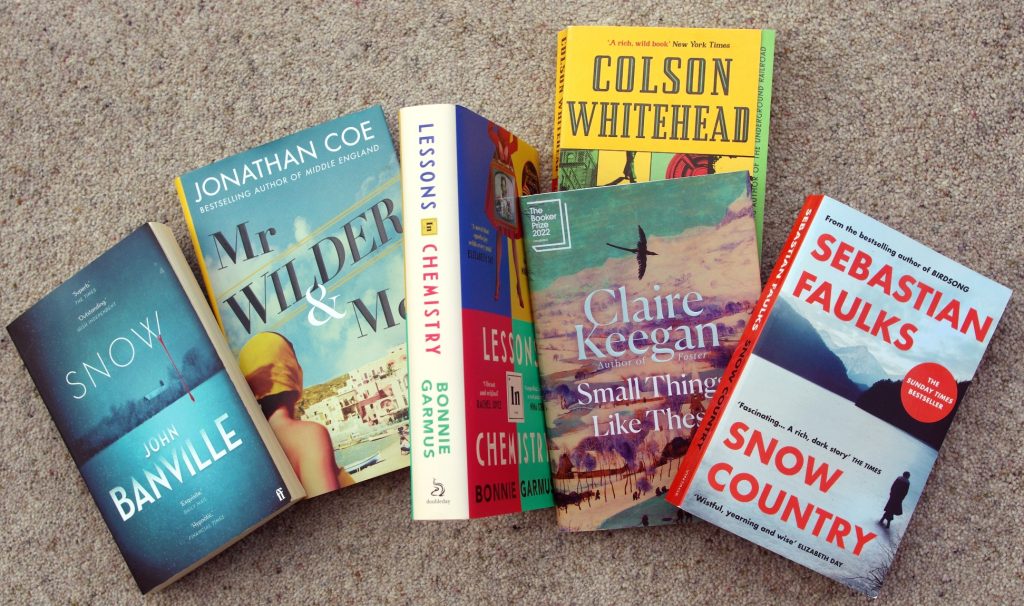 Our meetings are held on the morning of the second Tuesday of the month. Currently we have no vacancies.
Over a cup of coffee we have a chat before we exchange any background notes on that month's chosen book and its author. Then we talk about the book itself.
Each year we find books which are new to at least some of us, often something we might not have chosen for ourselves. Our books also represent many genres so the reception is often mixed. This contributes to a lively, engaging and entertaining morning.
Books read
For ease of review at a later stage we like to give the book a score out of 10 and these are recorded – see below.
Books for 2023
| Title | Author | Date | Score % |
| --- | --- | --- | --- |
| Small Things Like These | Claire Keegan | 10 Jan | |
| The Night Circus | Erin Morgenstern | 14 Feb | |
| The Dutch House | Ann Patchett | 14 Mar | |
| Harlem Shuffle | Colson Whitehead | 11 Apr | |
| Mr Wilder and Me | Jonathan Coe | 9 May | |
| Mr Phillips | John Lanchester | 13 Jun | |
| Old Filth | Jane Gardam | 11 Jul | |
| The Summer Book | Tove Jansson | 8 Aug | |
| The Lamplighters | Emma Stonex | 12 Sep | |
| Lessons in Chemistry | Bonnie Garmus | 10 Oct | |
| Snow | John Banville | 14 Nov | |
| Snow Country | Sebastian Faulks | 12 Dec | |
Books read in 2022
| Book | Author | Score % |
| --- | --- | --- |
| Small Pleasures | Clare Chambers | 87 |
| The Promise | Damon Galgut | 84 |
| Olive Kitteridge / Olive Again | Elizabeth Strout | 84 |
| A Spool of Blue Thread | Anne Tyler | 84 |
| The Wind in the Willows | Kenneth Grahame | 80 |
| The Small Hand | Susan Hill | 78 |
| The Country Girls | Edna O'Brien | 77 |
| Washington Square | Henry James | 76 |
| The Dig | John Preston | 74 |
| A Long Petal of the Sea | Isabel Allende | 73 |
| Grown Ups | Marian Keyes | 57 |
| The Midnight Library | Matt Haig | 52 |
Books read in 2021
| Book | Author | % Score | Meeting Date | Ranking |
| --- | --- | --- | --- | --- |
| Travels with my Aunt | Graham Greene | 88 | 12 Jan | 2 |
| The End of the Affair | Graham Greene | - | 12 Jan | |
| The Rehearsal | Eleanor Catton | - | 09 Feb | |
| The Great Fortune | Olivia Manning | 77 | 09 Mar | 7 |
| The Balkan Trilogy Vol 2 and 3 | Olivia Manning | - | 13 Apr | |
| Falling | Elizabeth Jane Howard | 76 | 11 May | 8 |
| The Carer | Deborah Moggach | 78 | 08 Jun | 6 |
| A Man Called Ove | Fredrik Backman | 90 | 13 Jul | 1 |
| The Architect's Apprentice | Elif Shafak | 50 | 10 Aug | 9= |
| The Silence of the Girls | Pat Barker | 50 | 14 Sep | 9= |
| Pride and Prejudice | Jane Austen | 81 | 12 Oct | 4 |
| The Citadel | A.J.Cronin | 80 | 9 Nov | 5 |
| Midwinter Break | Bernard Maclaverty | 84 | 14 Dec | 3 |